"Keeping Water Clean" In-School Program
The Greenscapes school program is a fun, hands-on educational program provided for your 5th grade elementary students, meeting Massachusetts Science Standards. This interactive program demonstrates how the built environment affects the natural water cycle, what happens to water when it enters a storm drain, how water flows through the local watershed, and how water can be cleaned and conserved. We offer this program in one school of your choosing per school year. Multiple schools can be scheduled for an additional fee.
Here are two of our 3 D model/simulator learning tools that we bring to your school.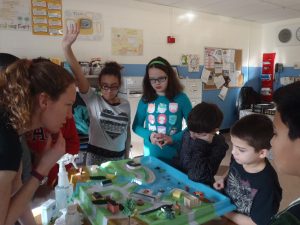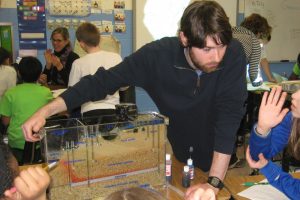 Testimonial from one of our volunteers!
"'I never thought of that!' We hear statements like this often during 'Keeping Water Clean' activities. The interactive displays in 'Keeping Water Clean' convey important messages in a vivid way.  Using a plastic 3D 'watershed,' students tangibly witness how waste makes its way into our waterways. With a cutaway model of an aquifer, they 'pollute' groundwater. At another station they see actual samples from the sewage treatment process.  It's rewarding to watch the kids begin to understand where our water comes from, how it can get polluted, and what we can do to help keep it clean. 'Keeping Water Clean' is an effective complement to science education in the Salem Sound region." (Sally McMurray, Volunteer)