DO YOU HAVE A YARD? YOU NEED OUR GREENSCAPES GUIDE!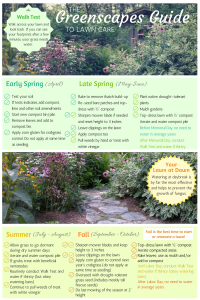 Download The Greenscapes Guide to Lawn Care Calendar!
The Greenscapes Guide is a 16-page resource that contains everything you ever wanted to know about Greenscaping!    Download a complete copy now! (requires Adobe Reader)
Get a printed copy at one of our partnering organizations (contact the Coalition partner nearest you), or there may be copies at the Town Halls and public libraries of our partner communities.
Be a Greenscaper – Take the Greenscapes pledge to care for your yard using water-conserving techniques that will provide you a beautiful, healthy yard.
Creating a Healthy Yard  – Learn why going organic is the healthy way to go, and how to go about transitioning from chemicals to organic!
Recycling Water – Too precious to waste, we need to put water back in to the soil, rather than letting it run off the more we create impervious surfaces.
Can You Reduce Your Daily Water use by 5 Gallons? – MA Dept. of Environmental Protection has set a generous goal of no more than 65 gallons of water use per person per day. If we can save even more, so much the better.
Stormwater—Why Should You Care? – Stormwater is the biggest threat to clean water today. Stormwater, which used to soak in the ground now is carried directly to reservoirs, rivers. lakes and the ocean. Find out more about this huge issue.
Top 10 Ways to Make Your Irrigation System More Efficient  – You could save potentially hundreds of dollars and thousands of gallons of water by making sure your irrigation system is working efficiently and not running when it's raining, as so many do!